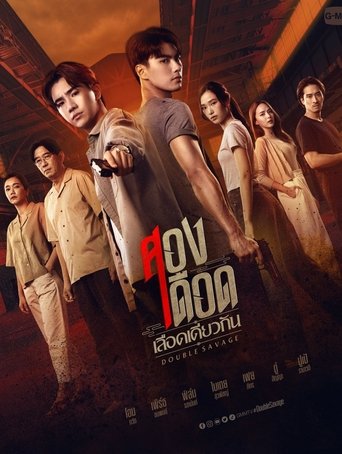 Double Savage Season 1
Siblings Li, Pakorn and Pawin were born into a family of Chinese traders. The three are affectionate, always taking good care of each other. Pakorn doesn't receive the equal love of their father, Ko Beng, however. He was born during the recession and is therefore branded a jinx, unlike Pawin who was born during the period of trade recovery and regarded as the family's golden child.
Two factors bring their sibling love to a turning point. The first is Rungtawan, the daughter of business owners down their same lane. The second is Asalha or Ah, a thief Pakorn mistakenly gets involved with and who incriminates him in a violent crime.
Their steadfast sibling love is transformed into a feud between outlaw and rookie cop.
Genre: Action & Adventure, Drama
Actors: Chatchawit Techarukpong, Kittipop Sereevichayasawat, Narumon Phongsupan, Patara Eksangkul, Pawat Chittsawangdee, Phollawat Manuprasert, Rachanun Mahawan, Ramawadee Sirisuka, Sanya Kunakorn, Sivakorn Lertchuchot, Tanapon Sukumpantanasan, Trakarn Punthumlerdrujee, Zuvapit Traipornworakit